Cleaning Department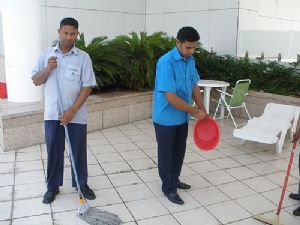 Provide the service of cleaners/ cleaning :-

• Annual Contracts for regular cleaning of Residential & Commercial Buildings, Shopping complexes, Showrooms, Hotels, Schools, Hospitals and offices complexes.

• Shampoo cleaning of Carpet, sofa, chair, mattress etc.

• General cleaning of Buildings, villas, flats and offices

• Cleaning, polishing and regular maintenance of Terrazzo, Vinyl, ceramic, granite and Marble floors.

• Grinding, polishing and restoration of marble floor by using the method of diamond grinding and crystallize polishing of Spanish technology

• Wall washing and window cleaning of high rise buildings and villas.